SALT TRAILS was a research based work for LINEAGE: an NSA show at Newlyn Art Gallery in 2007. NSA artists were asked to select a piece of work or object from the early period of Newlyn Art Gallery and its associated colony of artists. They had access to NAG's historic collection at Penlee house, Penzance.
John Keys chose Walter Langely's Breadwinners c 1896 as his starting point.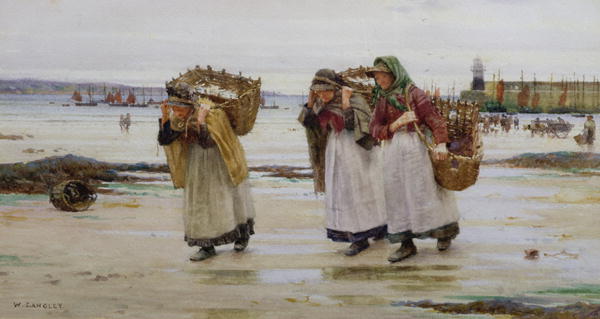 The Breadwinners depicts three fish jousters crossing Newlyn beach. The poorest fish sellers, usually women, would carry up to 70lbs of fish in a cowal (wicker basket) on their backs, as well as of 40lbs of salt in large pockets around their waist. Blanche Courtney and Betsy Lanyon, both clearly recognisable in the Breadwinners were jousters who modelled for the Newlyn artists.
Sea salt arrived by boat from France, at the Newlyn old quay, where it was stored in fish cellars. Jousters carried smaller quantities to households across the nine parishes of Penwith who used it to 'salt back' fish, meat and butter in 'bussas'(earthenware storage jars). Salt was an essential commodity for both the fishing industry and the rural population.
I was struck by the remarkable physical strength and endurance these women needed to make their daily journeys and by the significant role salt played in the life of the region.

My work is often inspired by landscape and marks within it. Marks made by wind, water, or people passing through. I am interested in the traces habitual journeys leave and how these can form the essence of our experiences.

FORGOTTEN JOURNEYS
(18 photographs)
A photographic record of salt trails laid from Newlyn old quay to Paul; a tribute to the women who regularly travelled these routes, weighed down by fish and salt.These trails were intended as transitory marks to be washed away by rain.
---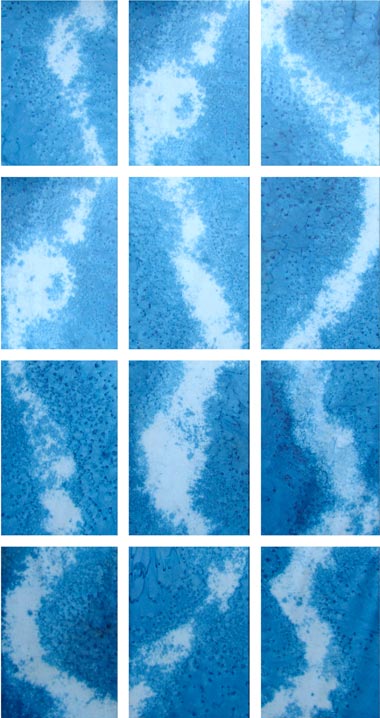 SALT TRAILS
(12 panels. Salt and vegetable dye on silk)

Traces of preservation,
Faint histories along repeated paths,
Salt laden arteries from sea to land
and back again.
---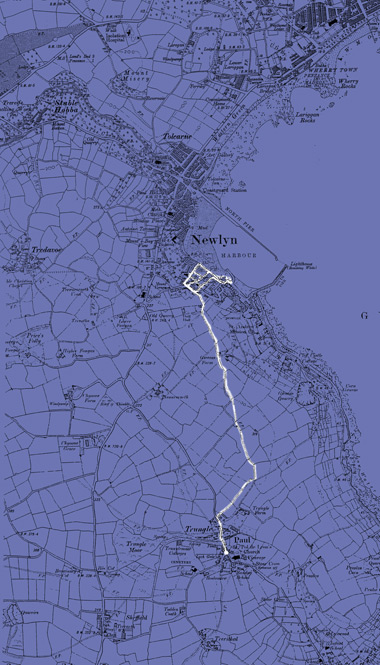 SALT TRAILS MAP